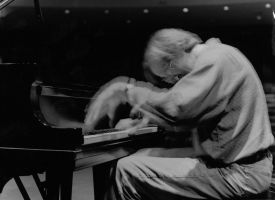 I began composing music in the mid 1990's as an outlet and avocation. Here's a summary of my work.
WALDEN
In 1997, I set myself to record a CD based on Walden, authored by Henry David Thoreau. I had no commercial aspirations and the music I think shows it. The CD is reflective, introverted and generally not too interested in impressing the listener. My goal was to follow where the ideas might lead. Many of the tracks are based on improvisations I reworked into through-written pieces complete with written score.
Walden was released in 1998 on my own label Symark Records. I decided to send it out to some of the prominent (at the time) New Age publications and reviewers. I was surprised to find a good reception. In short order I had a distributor for the alternative music and book store market and received some nice published notices. Subsequently I received a good amount of alternative radio play as well. Walden was noticed enough to be named on the 'Top 50 CDs of the Year' by Backroads, and it made a brief appearance on the New Age Voice music charts. Walden found a niche in the Thoreau community and is still sold at the Shop at Walden Pond.  I was invited there to give a concert based on my Thoreau improvisations which was a highlight of the whole adventure.
With the positive feedback I was receiving, I decided to composed and record a second CD which I called Deja Views. The idea was to take well know claasical tunes as a basic for each track and to explore them in a New Age sensibility. Given that I had gotten some modest commercial success, my goals for the project included exploring if I might be able to open more commercial doors with this recording. Recordings like the Mozart Effect were doing well and the using of classical themes like those from Pachelbel were a familiar way to engage an audience.
DEJA VIEWS
With Deja Views, I used acoustic samples to accompany my piano and also collaborated with Judy Stone on cello for two of the tracks. There are more upbeat tracks (for new age music, that is) and in general the music is a bit more outgoing. Indeed the CD did find an audience. It was in the Top 10 on the NAV charts for six months, charted as high as #3 and appeared on NAV for nearly a year. My distributor was able to place Deja Views in many of the music chains including Borders and Tower Records nationally.
The record also was popular with radio, with over 600 stations playing it. I was featured on a number of programs and even had recorded audio FAQ on which I recorded answers so that radio hosts could conduct a virtual simulated interview with me. This was played in Chicago, Cleveland and on the Voice of America radio among other stations. In recent years, both Deja Views and Walden have been picked up by digital radio, with DMX and Sirius among its biggest recurring players.
The attention this CD received led to some discussions with several New Age labels that had international distribution, but they didn't come together. Record stores were feeling the impact of digital competition. They started reducing SKUs and New Age music was one of the first to be cut deeply. Luckily, Amazon.com makes it possible to offer both the physical and digital versions of the music, not to forget the impact of itunes as well.
Heart Aid Project
In 2002, I was invited to contribute a track to a compilation by the name of The Heart Aid Project. The CD was part of a fund-raiser for 9/11 survivors. Other composers include great names like Ray Lynch ("Deep Breakfast"), John Boswell ("Trust") and Robin Spielberg, Michael Hoppe, Suzanne Ciana, and Windham Hill's Ira Stein. The project was put together by Spring Hill.